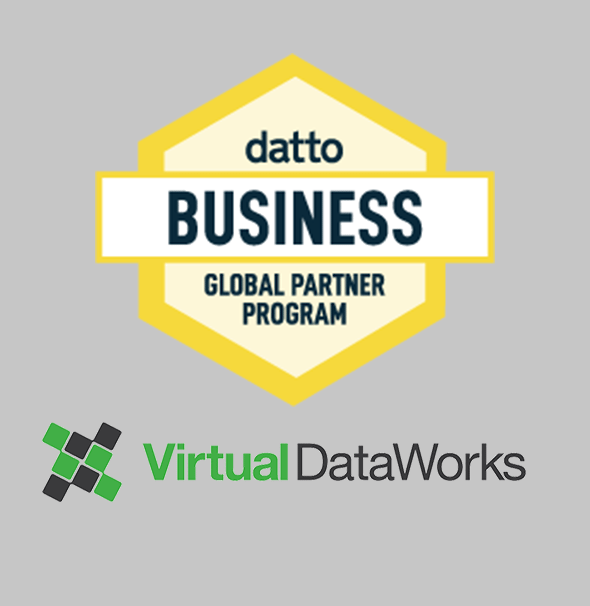 Datto Recognizes Virtual DataWorks as Global Partner
[CANTON, OHIO] – December, 2017 – Virtual DataWorks today announced that it has joined Datto's Global Partner Program, which provides managed service providers (MSPs) with the products and tools to service clients, build their brands and achieve sales and marketing goals. Datto is the world's leading provider of IT solutions delivered through MSPs.
Virtual DataWorks will now have access to Datto's state-of-the art services, geared towards helping MSPs better support their clients and grow their business. These include the ability to manage fleets of services and devices from a single-point portal, 24/7/365 global direct to tech support, marketing development funds and access to Datto's MarketNow, a robust marketing platform enabling partners to quickly, easily, and efficiently market Datto products and solutions with prebuilt content and campaigns.
"We are thrilled to partner with Datto," states President Matthew DeWees, "The company's comprehensive partner program will provide us with the technology, services, and tools necessary to deliver even better service to our clients and grow our brand and business."
Virtual DataWorks is a Managaed Service Provider in the Canton, Ohio area serving various local businesses in all capacities of their technology needs. Virtual DataWorks has chosen Datto as our cloud and backup solutions because of their great reputation and services they can offer our clients. We are always looking for the next best technology and options and Datto stood out from the crowd.
"At Datto, our success starts and ends with our partners, and that's why we've helped them generate over a quarter of a billion dollars in revenue over the years." stated Rob Rae, vice president of business development, Datto. "We are committed to helping Virtual DataWorks assist their clients, build their brand, and generate more sales."
About Virtual DataWorks
Virtual DataWorks is a leading I.T. Consultant and Managed Service Provider located in North East Ohio. We believe that technology can either make or break your business. It all depends on how you leverage your technology to positively impact your business. Our Managed Services program lets us focus on your I.T. while you focus on your business. Our goal is to be your trusted partner and to ensure that your technology works for you.
About Datto
At Datto, our mission is to empower the world's small and medium sized businesses with the best in enterprise-level technology. We do it by equipping our unique community of Managed Service Provider partners with the right products, tools and knowledge to allow each and every customer to succeed. It's an approach that's made us the world's leading provider of MSP delivered IT solutions. Datto is headquartered in Norwalk, Conn., with offices worldwide.