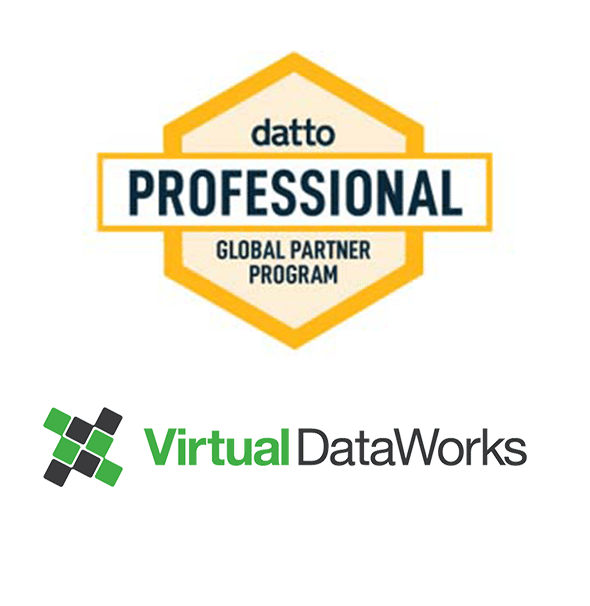 Datto Advances Virtual DataWorks to Professional Partner Status
[CANTON, OHIO] – March, 2018 – Virtual DataWorks today announced it has achieved the exclusive Professional partner status with Datto, the world's leading provider of IT solutions delivered through managed service providers (MSPs).
Virtual DataWorks has exceeded high standards of performance to qualify for Professional status within Datto's Global Partner Program. Professional status includes many exclusive programs and benefits designed to support further enablement and business growth.
Virtual DataWorks has been a Datto partner only since December of 2017, quickly climbing the tiers of the partnership. "It's an honor to be part of an elite group of successful Datto partners. The company has played an integral role in our ability to hit our sales and marketing objectives."
"We are thrilled that Virtual DataWorks has reached Professional Partner Status," said Rob Rae, vice president of business development, Datto. "It's been fantastic to see Virtual Dataworks leveraging our training, support and marketing resources to take their business to the next level. We look forward to more success in 2018 as we continue to roll out new partner services."
About Virtual DataWorks
Virtual DataWorks is a leading I.T. Consultant and Managed Service Provider located in North East Ohio. We believe that technology can either make or break your business. It all depends on how you leverage your technology to positively impact your business. Our Managed Services program lets us focus on your I.T. while you focus on your business. Our goal is to be your trusted partner and to ensure that your technology works for you.
About Datto
At Datto, our mission is to empower the world's small and medium-sized businesses with the best in enterprise-level technology. We do it by equipping our unique community of Managed Service Provider partners with the right products, tools and knowledge to allow each and every customer to succeed.